America is filled with a variety of signs: street signs, building signs, you name it. We don't realize it, but signs have become an integral part of America's landscape. While most signs are just there, many times helping us find our way, there are some signs with celebrity status. Below are some of the country's most popular signs and their path to fame.
The Hollywood Sign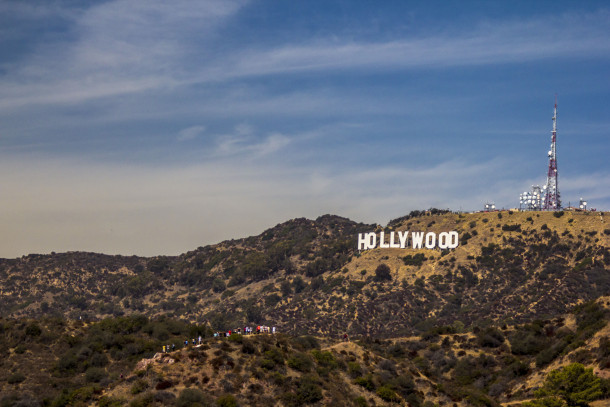 Source: CBS Local 
Quite possibly the only sign in America with its very own website, this one tops our list. Despite literally representing Hollywood, it has grown to mean so much more: prosperity, sunshine, celebrity, magic, and, not to mention, cinematography. What many people don't know, however, is that this beloved symbol of Southern California originated as an outdoor advertisement for Hollywoodland, an uptown housing development. Only in 1907, when a weather-beaten film company from Chicago came to film in the west coast climate, did anyone realize its potential. Studio after studio opened up and Hollywood and Sunset Boulevard were changed forever – and so too was Hollywoodland.
Wall Street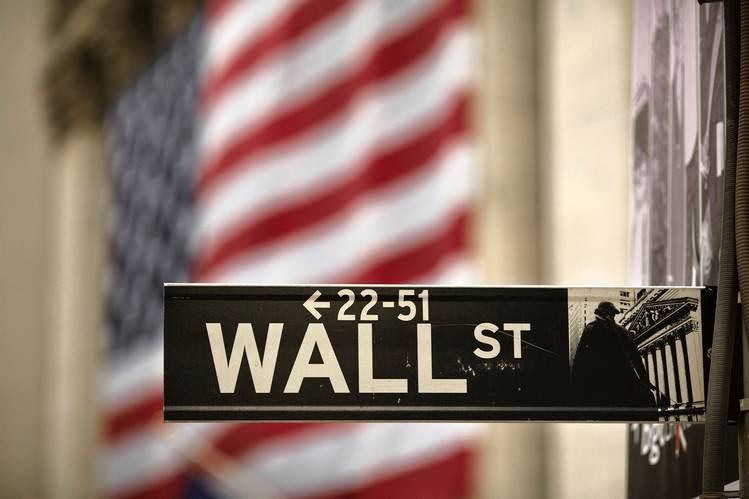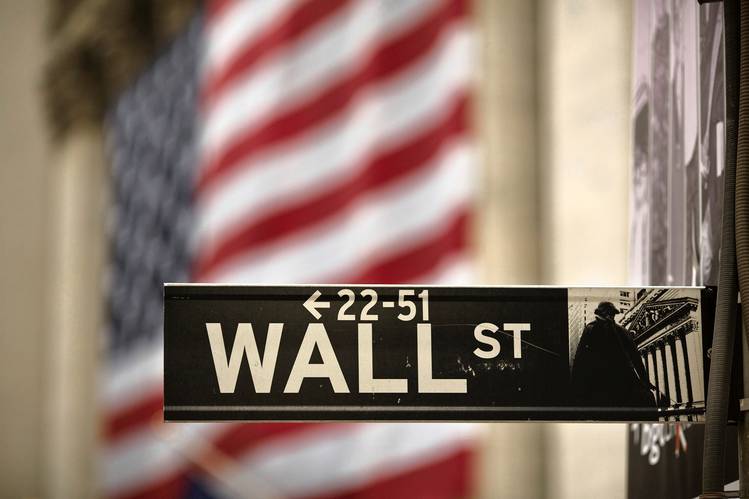 Source: WSJ
Home to the world's two largest stock exchanges, the New York Stock Exchange and NASDAQ, New York City has since been christened both the most economically powerful and the leading financial center globally. At the center of all of that sits another of America's most famous signs – Wall Street. Actually only a 0.7-mile-long street that branches eight blocks from Broadway to South Street, it's this infamously titled district in Lower Manhattan that represents the business, intelligence, diligence, and success of the East Coast and of America as a whole.
Rodeo Drive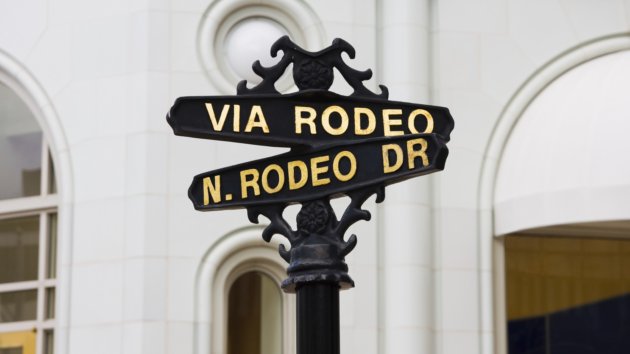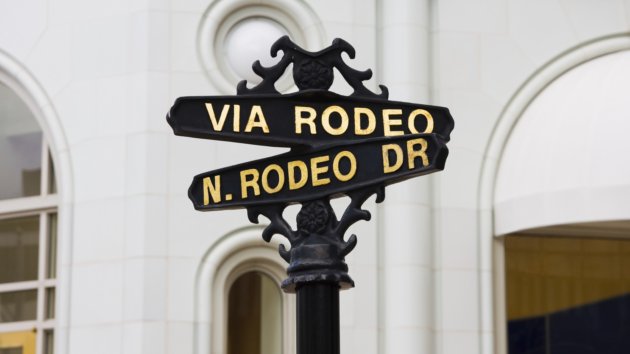 Source: ABC News Radio
 Historically significant to fashion, privilege, culture, and the movie Pretty Woman with Julia Roberts, Rodeo Drive has been infamously recognized since sometime around November 1925, when lots were selling for sums between $15,000 and $30,000 a plot. Even the sign itself screams "lavish" and now the two-mile long street exists as a variable theme park for shoppers and celebrities and tourists alike. It's home to some of the most expensive shopping in America and it's an integral part of Southern California heritage, making this sign a landmark.
Las Vegas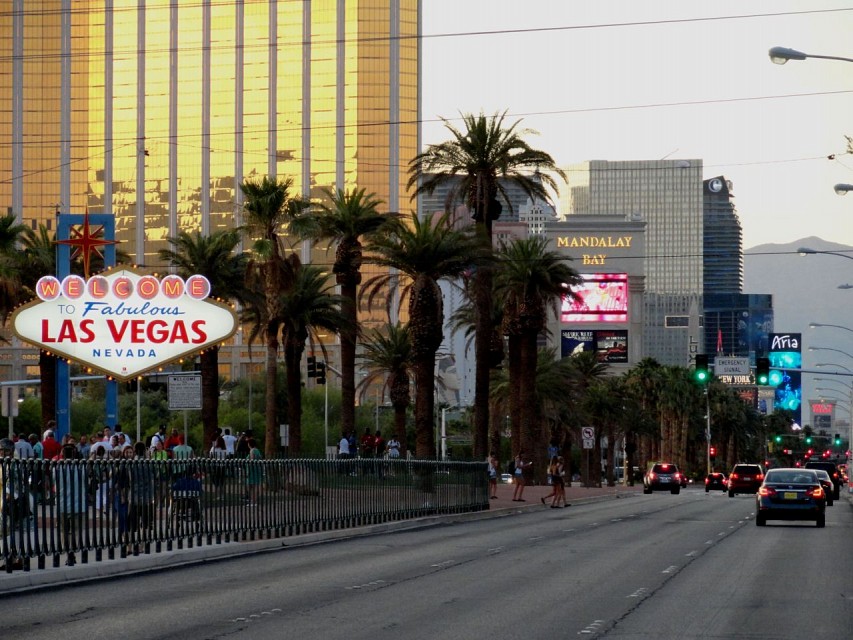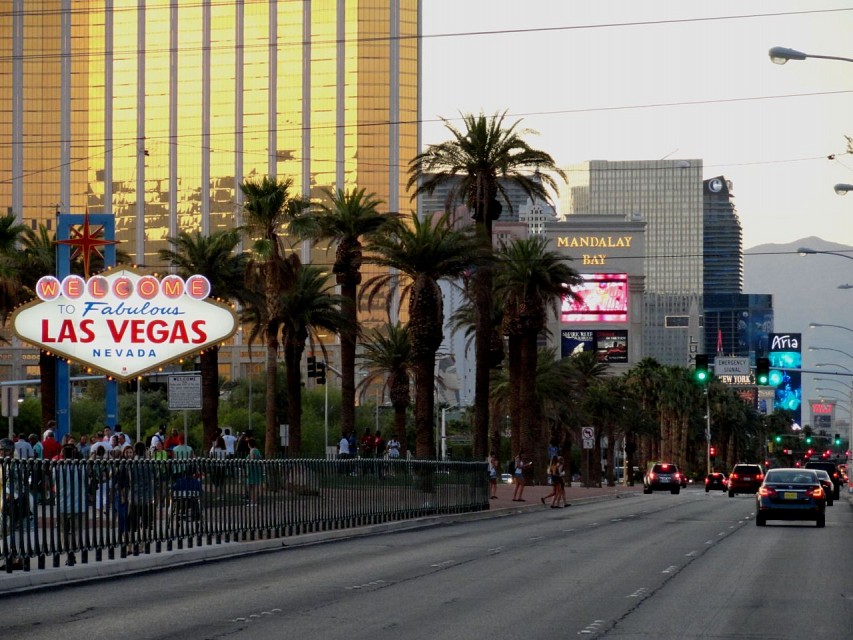 Source: ThousandWonders
The Welcome to Fabulous Las Vegas Nevada sign has been an international emblem of the lights, sights and nightlife of Sin City since 1959. Ironically though, the sign is not actually located directly on the Vegas strip, or even in Las Vegas at all. In fact, the sign and much of the strip itself lie in the next town over, also ironically called Paradise. The original, however, is actually now one of three, one on Las Vegas Boulevard and the other off of Boulder Highway. Having never been copyrighted, there are replicas scattered about the city too, on postcards, key chains, t-shirts and of, course, shot glasses. You can probably even purchase your own small replica sign of the original, larger than life one.
Haight-Ashbury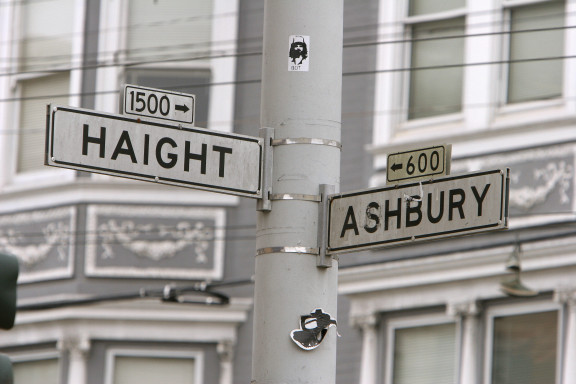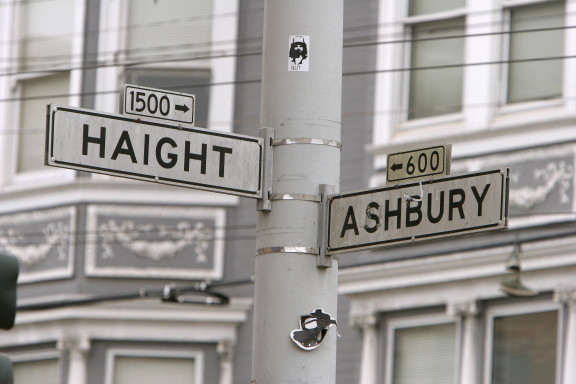 Source: French District
Situated in Northern California, Haight-Ashbury has been a district in San Francisco since around 1883. It began as a hub for cable car construction and quickly morphed into the primary entrance to Golden Gate Park. Haight-Ashbury thrived with the addition of the California League Baseball Grounds and the amusement park Chutes; however, it wasn't until the "Summer of Love" that the Haight and Ashbury streets really rose to fame. During that long hot summer in 1967, as many as 100,000 people, mostly hippies, gathered in the Haight-Ashburyneighborhood. While counter-culturists undoubtedly gathered in major cities across the world, San Francisco remained the center of the hippie movement, making the intersection of Haight and Ashbury a proud symbol of the '60s.
Portland Oregon

A sign only recently rising to fame is the Portland Oregon sign, though the fame is well deserved. Originating as a massive Oregon-shaped advertisement for White Satin Sugar in 1941, the sign morphed into a brighter, much more neon version in 1957 when it began to advertise White Stag Sportswear instead. Since then the sign has shifted to promote the clothing brand Made in Oregon – Old Town in 1989 and officially shines as a historical landmark in 2016, simply reading: Portland Oregon – Old Town.
Radio City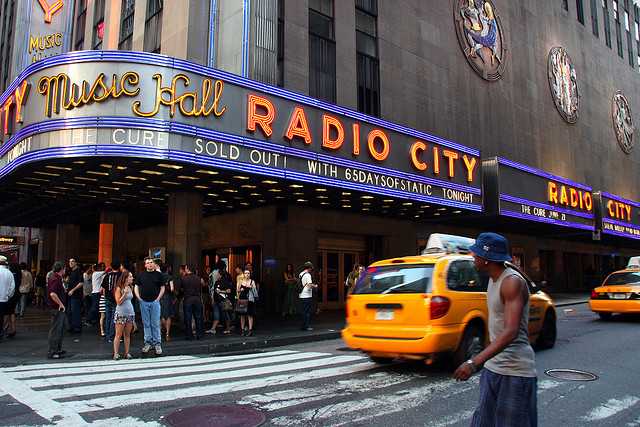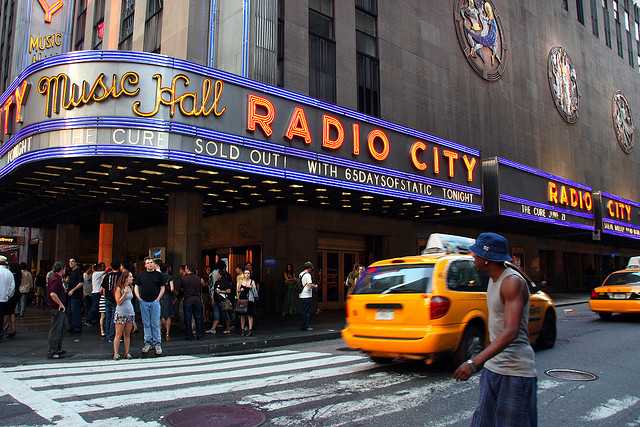 Source: MiniTime
A classic image even in the realm of iconic marquees, the Radio City Music Hall symbolizes the creative energy of entertainment in the Big Apple. It was John Rockefeller Jr. who, in 1932, thought to help elevate the city that had fallen with its market crash just three years prior. At the time, Radio City was easily the biggest theater in the world and tourists flocked to it with a joy equivalent to the city's newfound pride. And really, a sign that stretches for an entire block, whether in 1932 or today, is an American emblem worth being proud of.
Route 66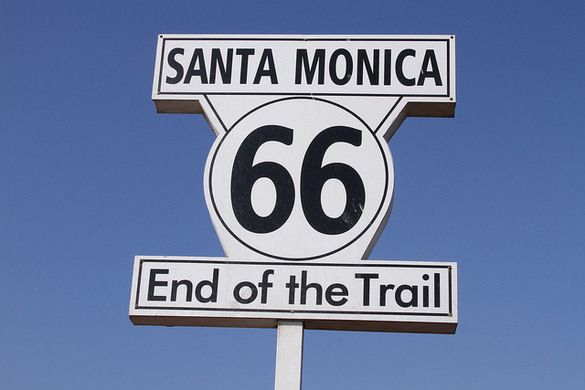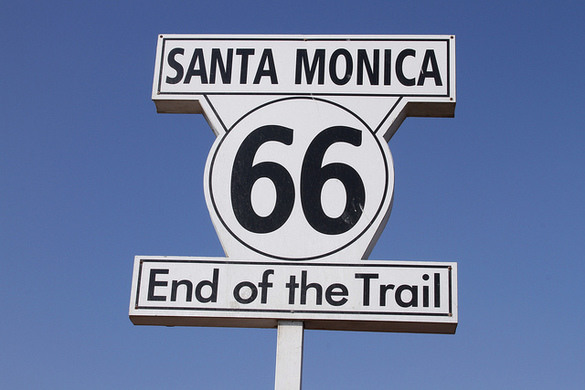 Source: Atlas Obscura
For our final kicks – Route 66! Whether you know it as the song from Nat King Cole, a leading American jazz pianist, from the movie Cars, or from your own driving experience, you'll understand the significance. Also known as the Mother Road or the Main Street of America, you used to be able to see these little signs dotting a stretch of road anywhere between Chicago, Illinois, over through Missouri, Kansas, Oklahoma, Texas, New Mexico, Arizona, and ultimately down to Santa Monica, California. Truly, what sign could be more American than the shining beacon of our freedom to travel across our country's Main Street?